About Snack 'N Pop Vending
At Snack 'N Pop, we are dedicated to providing the best service for our clients and greatly appreciate the opportunity to serve new clients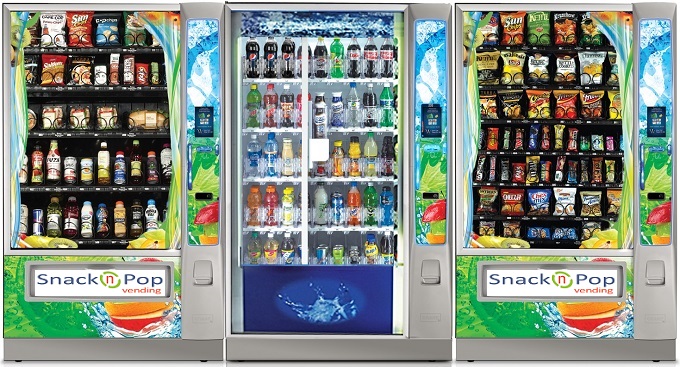 Snack 'N Pop vending strives to build a strong and long lasting relationship with everyone of our clients. We realize that without our clients there is no Snack 'N Pop Vending. Let us create an employee refreshment program including brand name snacks, drinks, fresh brewed coffee, and fresh food specifically for your company.
How we are Different?
We are different from our competitors in that we strongly believe in putting a face to a name, not just being another voice on the other end of the telephone, passing you from person to person. Snack 'N Pop Vending is committed to building a special relationship with each and every one of our clients.
How can we promise Better Products and Services?
Being family owned and operated we provide the best products and services. We are committed to success and growth, by providing our customers with the best products available and superior service we have and will continue to achieve our goals.
Snack 'N Pop succeeds because we pay attention to all details.
As demands in the workplace increase, many miss breakfast, choose to work through lunch, or snack at their desk in order to complete a project. With this in mind, we strive to provide great tasting, healthful foods, and beverages. Machine items can be rotated regularly for greater variety. We encourage all of our clients to approach us with their request or comments. Most vending service companies will promise you new equipment and the finest products available. But, without personalized service with a focus on details those promises will not satisfy you. It is our belief that vending is not a 'one size fits all' service; it needs to be customized both in the equipment and product. You will receive this service from Snack 'N Pop Vending. Our goal is to give reliable vending machines, quality products and trouble free service for your employees. This service is provided at no cost to your business. For your convenience, we will coordinate a service schedule that meets your business needs.
Find the brands you want, the flavors you crave, and the convenience you expect from Snack 'N Pop Vending!
5 Tips for Picking the Right Vending Service
If you have ever wanted to search for a vending service provider, here are a few great tips to find the right one who can get the job done right for your company. When looking for a vending service provider there are a few things to consider. Finding the right vending service company can help your business greatly.
Consider looking for a vending company who can provide reliable service. Reliable service is crucial to any business and vending is no different.
Having your machines restocked on a regular basis is very important. The last thing that you need is to be calling the service provider asking them to constantly be restocking your machines. If they care anything about your business then they will get the job done right the first time out.
Always make sure that you are receiving good quality vending machines to be place at your company. This is important because when the machines are newer they are less likely to have break downs and look more appealing to your staff. Plus, they will be less likely to have problems due to product hang ups which will reduce refunds and customer dissatisfaction.
Ask for a product list to view when seeking out a new vending service provider. Having the option to choose a good variety of products is paramount. How about healthy items as well? Most people are looking for a tasty healthy snack during the day. There are many new items out in market that are very tasty and great for you such as granola bars, dry fruit, etc.
Be sure to ask if the machines ever break down how soon will they be looked at and fixed. The normal turnaround time to fix a machine would be 4-6 hours if we are notified before 12pm and if after 12pm then it will be taken care of the next business day. Anything more than that will cause your staff frustration and ultimately the vending company loses business.
These are just a few things to consider when looking at using a vending service company in your area. At the end of the day the less headaches that you are faced with the better and when you have the right company helping you with your vending service needs this is one less thing for you to worry about.